The new essay prompts were just released by the Common Application (or Common App, for short).
Wait. Back up! What's the Common App, you ask?
Nearly 600 colleges and universities have partnered to streamline undergraduate college admission applications. These are both public and private institutions. The member schools fall in 47 states and the District of Columbia, as well as in Austria, France, Germany, Italy, Switzerland, and United Kingdom.
According to the Common App, the essay prompts are "designed to elicit information that will strengthen" and hopefully support other components of the student's application. By using essays as part of their admissions materials, schools can look at more than just a student's grades and test scores.
In the past, the Common App released new prompts each year. High school juniors and seniors needed to wait to prepare their 250 to 650-word college essays until the prompts were announced, typically in March.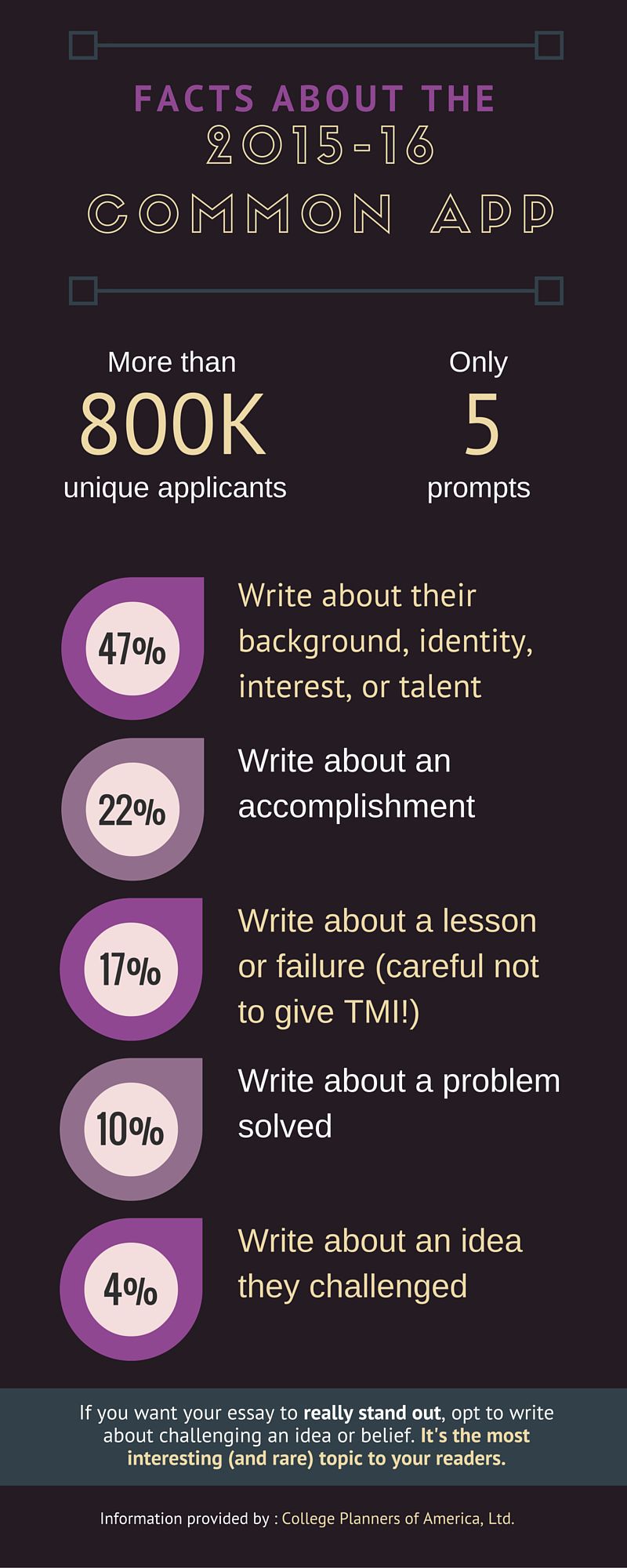 Here are the 2016-17 Common Application prompts:
1.Some students have a background, identity, interest, or talent that is so meaningful they believe their application would be incomplete without it. If this sounds like you, then please share your story.
2.The lessons we take from failure can be fundamental to later success. Recount an incident or time when you experienced failure. How did it affect you, and what did you learn from the experience?
3.Reflect on a time when you challenged a belief or idea. What prompted you to act? Would you make the same decision again?
4.Describe a problem you've solved or a problem you'd like to solve. It can be an intellectual challenge, a research query, an ethical dilemma – anything that is of personal importance, no matter the scale. Explain its significance to you and what steps you took or could be taken to identify a solution.
5.Discuss an accomplishment or event, formal or informal that marked your transition from childhood to adulthood within your culture, community, or family.
And–surprise!–they're the same prompts as 2015!
According to Scott Anderson, Senior Director of Programs and Partnerships, the Common App plans to "revisit" the prompts every other year. This is great news for students looking to get a jump on preparing their admissions essays. The prompts are available almost two months early, giving students extra time to write killer essays that will help them get noticed by their college(s) of choice!
2 responses to "Infographic: The Common Application"
1.6 Things To Keep In Mind For College Application Essays | Bybee College Prep Says:
February 8, 2016 at 3:53 am
[…] students find themselves strategizing. The Common App offers 5 prompts for students to choose from. According to College Planners of America, about half of the 2015-16 applicants choose the question about their background or indentity. That […]
2. temp-post-imageChristy Sharafinski says:
February 8, 2016 at 12:07 pm
Thanks, Bybee College Prep, for sharing our infographic on the Common App. Applying this insight can make for a great strategy, making any student's essays stronger!