You may be a high school junior or senior, but you've spent most of your life being told what to do, what to think and what to say. Now though, you're becoming an adult and it's time to act, think and speak like one.
One of the first shifts is to realize that not everything you've been told or every impression you have is gospel truth. Information about colleges can top that list. Be smart. Find out for yourself what college is really like (and realize that not every school is the same!)
File this "Note to Self" away for future reference: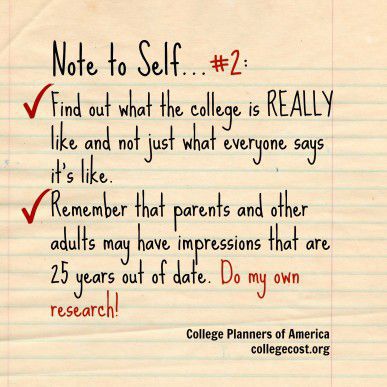 Need help finding out what college is really like today? Even more importantly, would you like to know who you are and what colleges might be a great match for your personality, interests, preferences and budget?
We can help!
If you'd like to talk with an independent educational advisor and get the most up-to-date information which applies to your situation, call our office today to schedule your no obligation appointment. We can be reached at 630-971-2300.
~mike